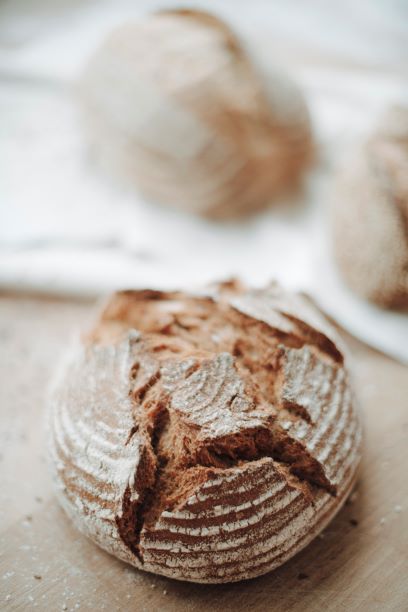 Building on our 40 years of experience, we at Bakhaus produce organic breads and baguettes weighed and shaped by hand. Under the direction of Julien Delahaye, our head baker, a team of committed bakers prepares fifteen different high-quality breads every night.
Our range consists of breads made with natural leaven and wholemeal flour (spelt, wheat and rye) as well as breads made with a sourdough-yeast mixture, and flours such as spelt, rye and various seeds: sesame, pumpkin and flax.
Our leaven was created by our founder, Frank Obertin. Forty years later, we still use the same strain.
We also offer a selection of gluten-free breads. Some of these products are also available in individual formats.
Discover all of our breads
Wholemeal sesame bread: wheat flour, sourdough
Wholemeal rye bread: rye and wheat flours, sourdough
Wholemeal spelt bread: sourdough
Pain Paysan: wholemeal rye and wheat flours
Wheat bread baked in a bread pan
Spelt mix: spelt and rye flours
5 oats bread: wheat flour, mixture of oats, rye and barley flakes
Walnut bread: wheat flour and walnuts
Multigrain: wheat, rye, oats and soy flours, plus pumpkin, flax and sesame seeds
Millen brot: whole wheat flour ground in a prototype Zentrofan mill
Biodiversité: wheat, spelt and rye flours, flax seeds
Bakhaus: spelt flour, natural leaven
Oméga: wheat, rye, oats and soy flours, plus pumpkin, flax and sesame seeds (available in mini format)
Polka bread: wheat and rye flours, long fermentation, special baking process
Wheat baguette, natural leaven
Spelt flour baguette with or without seeds
Gluten-free bread with a mix of rice and chickpea flour
To meet our customers' growing demand, we have developed a range of quality certified organic pastries: brioches, croissants, apple turnovers with homemade applesauce, kougelhopfs, escargots…
These delicacies are made by hand in our workshop in Luxembourg by our savvy artisan bakers.
Wait, there's more. We recently decided to offer dark chocolate variations: chocolate spelt croissants, chocolate chip escargots…
As for our kougelhopfs, they are made from spelt flour and natural leaven, and cooked in traditional Alsatian clay moulds. They come in both small and large size.
Starting in October, Bakhaus also offers traditional and seasonal organic pastries such as boxermännchen (seasonal man-shaped delicacy) that will delight young and old alike. Vegan alternatives are also available.
We also offer candied fruit stollens, a type of Alsatian Christmas brioche.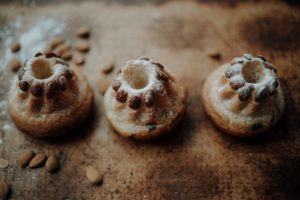 Discover all of our viennoiseries
Spelt flour butter croissant
Spelt flour butter chocolate croissant
Small spelt flour brioche
Cinnamon, chocolate or poppy escargot
Apple turnover with homemade applesauce
Lunette cookies
Frangipane
Traditional cheesecake
Fruit pies and tartlets (apple, pear, mirabelle plum, apricots, quetsches, cherries): we try to use seasonal fruits as much as possible
Bretzels: in season
Donuts: in season
Galette des rois (King's cake)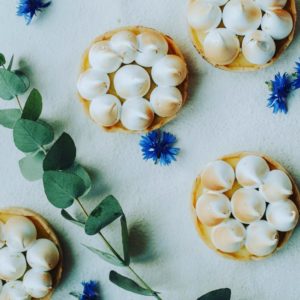 Since January 2020, our new laboratory is exclusively dedicated to the production of organic pastries.
Our team offers a whole range of pastries every day: the famous éclairs, the unmistakable lemon meringue pies, the mythical opéra…
Making certified organic pastries is a real challenge. We only use certified organic raw ingredients, which excludes the use of colorants, additives and texturizing agents.
Discover all of our pastries
Vanilla, chocolate, coffee or praliné éclairs
Lemon meringue pies and tartlets
Seasonal fruit tartlets: lemon mousse, raspberry insert and dacquoise
Carrot cake
Entremet cakes
Bûches de Noël (Christmas yule cakes)
We also wish to offer a selection of products developed without animal-based ingredients.
Our plant-based organic range of pastries, developed under the impetus of Julie Jager, is one we like to call "a niche in the niche".
Julie, a passionate vegan baker, is convinced that vegan pastries have strong potential and closely follows any development in that area. To promote vegan pastries, Bakhaus has joined the Sucrés du Lux club, a Luxembourg association of passionate pastry chefs.
Discover all of our vegan pastries
Amarante: dark chocolate and puffed amaranth
Chocolate and praliné entremets on a hazelnut biscuit
Vegan bonhommes
Vegan bûches
Vegan croissant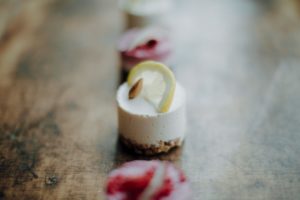 Check out our Instagram account and follow us on social media.